18 Green Hair Costume Ideas
If you're looking for costume ideas that are a little bit different, why not try something with green hair?
Some of the most iconic characters in comics, anime, and film actually have green hair, so there are many great options to go with. With a little hairspray or high quality green wig, you can transform into one of these iconic characters in no time!
We've put together a list of our top picks that will make you stand out from the crowd.
Best Green Hair Cosplay Ideas
1.

Izuku Midoriya (My Hero Academia)
Izuku Midoriya (Deku) is a young boy who dreams of becoming a superhero, and he has green hair that sticks up in all directions, which is typical in anime style.
You'll need a green wig and My Hero Academia school uniform for your Deku cosplay. You can also add some green contact lenses if you want to really capture that anime look.
Its showtime! Prepare to undergo the transformation into the 80s horror icon Beetlejuice! Just slapped on a green wig, some white face paint, and a pinstriped black-and-white suit and you too can get that trademark ghoulish look. This outfit is a great choice for making a bombastic entrance that everyone will notice and bringing a dash of Tim Burton's dark sense of humor to any get-together.
>> Check out our Beetlejuice costume guide
The Joker, Batman's arch-nemesis, has undergone many transformations throughout the years, but one defining characteristic has remained consistent: his green hair. Whether drawing inspiration from Jack Nicholson's cinematic portrayal, Heath Ledger's Oscar-winning performance, Jared Leto's twisted take or Joaquin Phoenix's gritty interpretation, this costume offers a plethora of unique options for those looking to channel the iconic villain. And don't forget the Joker's signature grin, it's a must-have element that will complete the look.
Since the 1970s, everyone has been obsessed with the Oompa Loompas, the tangerine-colored and tiny workers in Willy Wonka's chocolate factory. They sang and danced their way into the hearts of audiences everywhere, orange complexion and green hair and all. One needs a green wig, orange face paint, and brown overalls to pull off the classic appearance. This outfit is perfect for any cosplay event that calls for a dash of nostalgia for a classic film along with a dash of whimsical fun.
The Grinch is the green-furred, Christmas-hating grump from the pages of author Dr. Seuss's beloved children's book. He's best known for his holiday hijinks and has a heart that's two sizes too small. To cosplay as the Grinch, you will need a green fur wig, green face paint and makeup, and a Santa Claus outfit.
6.

Saria (Legend of Zelda)
In The Legend of Zelda video game series, Saria is a green-haired forest fairy known for her kindness and wisdom, and she's often considered the protector of the Kokiri Forest. She also has a close bond with Link, the series' protagonist.
If you want to cosplay as Saria, you'll need a green tunic, leggings, and a pair of pointy green ears. You can also add some green face paint to bring the look together.
Since her introduction in 1980, fans have adored She-Hulk, a strong and famous figure from the Marvel universe. Fans have made her a popular choice for cosplay since her Disney+ MCU series became a critical and commercial success. She-Hulk is a famous superheroine who moonlights as a lawyer by day and transforms into her green, superpowered persona at night when she gets angry. You can get the look by donning a green bodysuit, some green makeup, and a green wig. Plus, green contacts are a must for anyone trying to perfect the comic book appearance.
Ferb is one of the main characters from the popular Disney cartoon Phineas and Ferb. He's best known for his green hair and catchphrase, "whatcha doin'?"
If you want to cosplay as Ferb, you'll need a green wig or hairspray, a yellow dress shirt, and purple trousers.
9.

Froppy (My Hero Academia)
Froppy, who has green hair and is recognized for her eccentric nature and frog-like mannerisms, is an outstanding contributor to the Frog Force. She appears in the anime series "My Hero Academia." Her capacity to expel forceful spurts of water from her mouth contributes to what makes her character so distinctive and unforgettable. Both a green wig and a bodysuit are essential components if you want to recreate the character's appearance.
Hulk doesn't need much of an introduction. As one of the most famous superheroes in the Marvel pantheon, he's best known for his destructive tendencies when he gets angry and has superhuman strength and durability.
For your Incredible Hulk cosplay, you'll need a green body suit, green face paint, and a lot of muscles. Just make sure to keep your anger in check. HULK SMASH!
Captain Planet is a 90s-era superhero who uses his abilities to control the elements to fight pollution and defend the environment.
For your Captain Planet cosplay, you'll need his iconic blue and red suit and a dab of metallic blue face paint. He also has green hair, which is fitting given his eco-friendly mission.
The Fortnite fave Zoey is known for her emerald-colored hair and playful personality. She is playable in the Battle Royale mode and can have a wide selection of various clothes and weaponry equipped to her at any given time.
You will need a green wig styled into pigtails, a pink hoodie, and a cap in order to successfully cosplay as Zoey. A gigantic lollipops prop would be another lovely addition to the scene!
In the Japanese anime series "Sailor Moon," the character Sailor Neptune is recognized for having the power to exert influence over the sea. She is both strong and calm. Her cool demeanor and composure are two qualities that contribute to making her a one-of-a-kind and unforgettable individual. Elements such as a blue skirt, a green wig, and a white sailor suit are required in order to mimic her appearance.
14.

Cosmo (The Fairly OddParents)
Cosmo, the lovable but hapless fairy godparent from the animated series "The Fairly OddParents," is a fan favorite known for causing more trouble than he solves. To replicate his appearance, you'll need a green wig, a white dress shirt, a black tie, and black pants. And don't forget the fairy wings and wand, as they are essential to completing the Cosmo look. In these simple steps, you've got one fairly odd costume!
In Pixar's "Inside Out," disgust is one of the feelings that Riley has inside her skull. She is voiced by Mindy Kaling, and both her skin and her hair are green in color. Disgust is offended by everything and everything, and she never misses an opportunity to let Riley know what's on her mind. You are going to need a green wig and green face paint in order to complete your Disgust cosplay.
In the Pokemon anime series, Cilan is a gym leader, and in addition to that, he is an expert in the color green and all things related to it. He has emerald hair which makes sense given his obsession with the color green. He's also a heck of a chef! You will need a green wig, a green bowtie, a black vest, and one of Cilan's pocket monsters in order to successfully cosplay as Cilan.
17.

Beast Boy (Teen Titans)
Beast Boy, one of the rambunctious members of the Teen Titans, has the ability to shapeshift into animals and all other sorts of things which puts him in all sorts of interesting situations. But for his most common appearance, he has green hair and complexion which makes him stand out. If that isn't enough, he has one pointy fang that makes him easy to identify. He finishes off his look with a purple and black superhero suit.
18.

Roronoa Zoro (One Piece)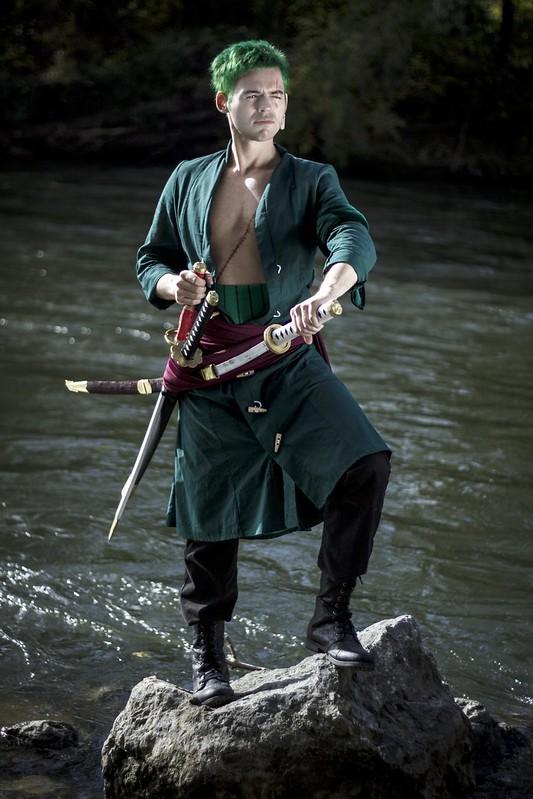 The swashbuckling Roronoa Zoro appears in the One Piece manga and anime. He's one of Luffy's crew members. His outlandish attire consists of a jumbled green spiked-up hairdo, a green pirate gown, and several katanas. If you are into anime and looking to cause some mischief on the high seas, you can't go wrong with a Roronoa Zoro getup.